Websites for Limo Companies
BEAUTIFUL & FAST WEBSITES
Website Design Services For Limousine Companies
Your website represents your business and it can stay at the forefront your prospective customer's mind if it speaks highly of who you are and what you offer. Do not blow your chance of capturing customer's attention.  
We do not provide you with cookie-cutter designs because we believe that each business has unique goals, which should reflect on your website. 
Never allow your competitors to outperform you by making sure that your website is visible. You are guaranteed to improve your visibility if your website ticks all the right boxes..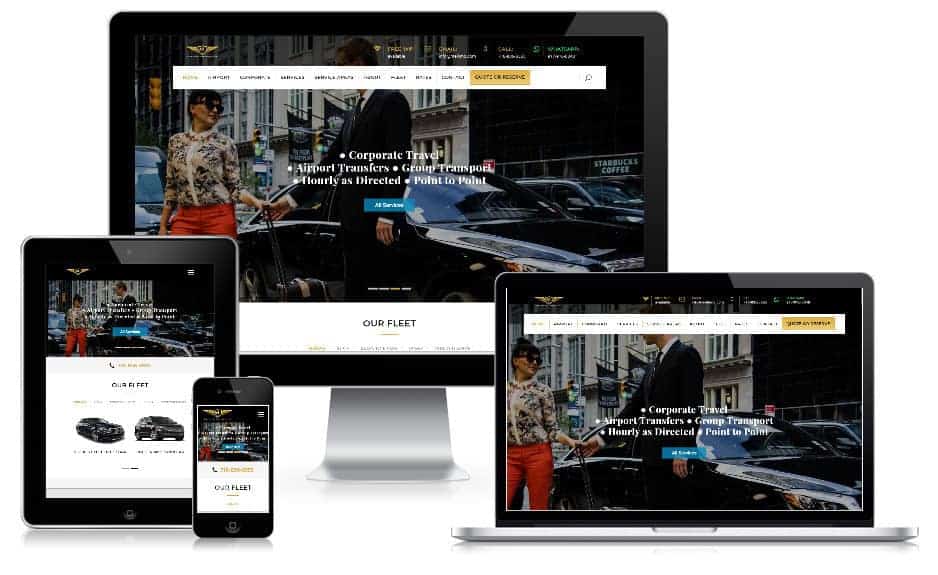 Custom Website Design Services
Your website has to create a powerful impact on customers. Get your website customized now.
Ingredients for a Sales-Driving Website Design
Compelling Graphics | Engaging Content | Personal Touch
Why Limo Companies Love Our Expert Web Design Services
For small or large limo companies, having a wider reach is everything. When your website is visible to your target market, it is easy for you to sell your products and services. Reaching this goal becomes effortless if you are dominating search engine rankings. A website that does not keep your prospects engaged will never drive sales. Building a website is not only about creating a digital representation of your brick and mortar store. Prospects base their buying decision on what they see on your website. Trust is a vital factor in the decision making process. Letting potential customers know that you offer what they need or want is proof that you earn their trust. It all starts with a compelling website.
Giving your sales a boost starts with making a smart design decision. Talk to us so we can help you explore a new world of design possibilities. 
How Much Do Website Design Services Cost?
Website building is a major investment and web design is an essential part of it.There are different factors  to consider in determining the costs.
Your website says a lot about your business. This is why business owners who aim to grow their digital footprint considers investing in a professionally crafted website. In a bid to search for the right website design, budget often gets in the way. This means you need to compromise on quality so the design fits your budget. When it comes to identifying the overall cost of web design, you have to know whether or not it is scalable.
Although there are platforms that allow you to build a website at a cheaper price, sometimes under $20, quality still comes at a price. How would you like your website to be cluttered up with ads?
While it is possible to get cheap web design services, it does not guarantee desirable results. This means you will end up going the DIY path when it comes to designing a template, logo, and other essential web design elements.
For the medium level, you will be working closely with a freelance web designer to get your design done. The result you will get will depend on your designer. It is a battle between cost and quality. There are many cases when a good designer creates a good balance between the two. Then there is the most expensive design costs. Established web design agencies will breathe life into your website and they practically take care of all aspects of website building. There is little or no effort required on your part.
Ready To Take the next step in growing your business? Contact our team today!
Transform your website into a sales magnet. Drop us a line so we can discuss your business goals, design options and our process with you.
Web design is not only focused on the aesthetic aspect of website building. Typically, people visit your website to find out how you can help them. First impressions last. Prospects will not explore your website unless they discover something interesting. The only thing that stays is the experience they gained. If your website is easy to navigate, presentable and engaging, people will decide to explore it more.
Leads turn into sales when your website has something to offer to people. Sure you can try to be straightforward by letting them know about your products and services, but customers are visual creatures. If they do not like what they see on your website, they will not make an effort to discover your business.
The more you engage people the more revenue you will generate. A professional design is instrumental to maximizing the effectiveness of your website. It get people's attention which later leads to positive experience, extending word of mouth.
Working with Limo Partner has been great! They have turned marketing for our limo company from a dreaded task into something we are now very enthusiastic about.
I am so glad we chose LimoPartner for our digital marketing. Between the PPC and SEO strategies they have implemented, visits to our websites have increased dramatically.
We are grateful we were introduced to the LimoPartner team. After they rebuilt our website, our online reservations have skyrocketed. We had to hire a new driver.
Please fill the form below and a member of our team will contact you shortly. We are excited to see how can we help you achieve more bookings!